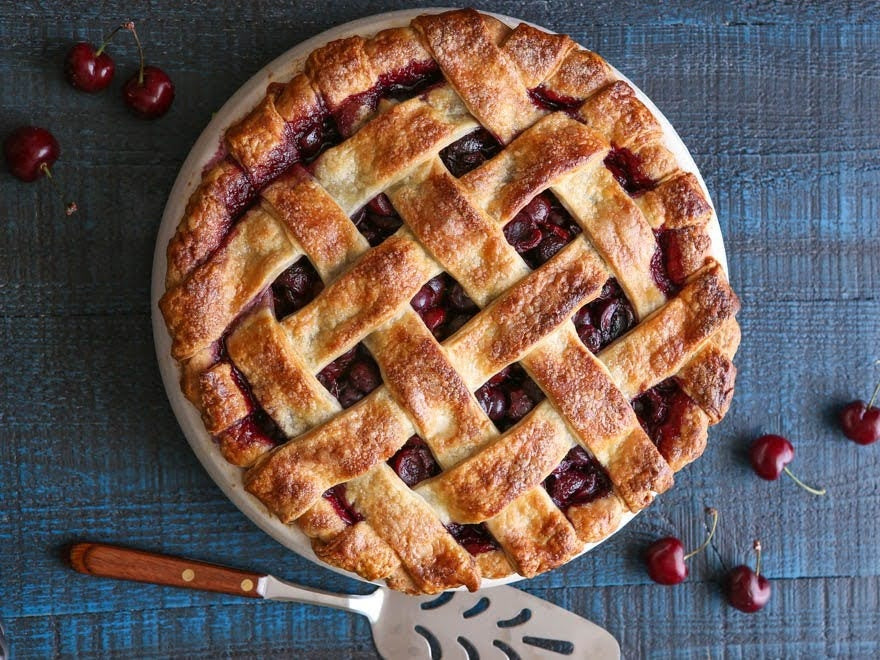 Ingredients
1 egg
1 1/3 stick unsalted butter
1 1/3 cup plain flour
1/2 tablespoon water
1/4 cup powdered sugar
3.3 lb fresh cherries, pitted
1/3 cup superfine sugar
juice and zest of 1 lemon
3 teaspoons of vanilla extract
2 tablespoons cornstarch
1 egg (extra)
1 tablespoon milk
Instructions
Mix butter, flour and powdered sugar into a bowl and mix until crumbly. In a cup, whisk the egg and water. Slowly add egg mixture to the dry ingredients and mix. Once fully mixed, wrap the dough in plastic wrap and chill in refrigerator for at least 30 minutes.


Remove pits from cherries and place in saucepan. Add sugar, lemon zest and 3 teaspoons of Vanilla. Cook over medium high heat for 5 mins, or until the cherries begin to break down. Whisk lemon juice and cornstarch then add to cherries. Stir the mixture until it is fairly thick then set aside to cool down.

Preheat oven to 350°F. Divide the dough into two balls, one slightly larger than the other and roll out the dough into quarter inch thickness between two sheets of plastic wrap.Place the larger sheet of pastry into the tart tin and trim off any excess pastry (keep for later to use as decoration). Fill the pastry shell with the cherry filling then cover. Cut the smaller sheet of pastry into equal sized strips and cover the pie in a tight crisscross pattern to form the lid of the pie. Remove any excess pastry then press the sheets together to seal the pie. Whisk together 1 egg and 1 tablespoon of milk to make an egg wash and brush over the mixture of the pie. Use leftover pastry to make shapes to decorate the pie and brush once more with egg wash. Bake for 35 minutes (until lightly golden) then serve and enjoy.